An online poll was organised through Beijing Sinobo Guoan's official Wechat account on 2 April, which was to collect votes from subscribers to determine the winner of the club's Player of the Month award. A total of 10,528 subscribers and 6 press representatives participated in this poll. Among the nominees, Yu Dabao and Jonathan Viera were the favourites of the press, who topped the others with 2 votes respectively. Combining the fan votes and press votes together, the result illustrated a slight preference for our captain Yu Dabao, who was therefore awarded March Player of the Month with 30.3% of votes (29% of the fan votes multiplied with the coefficient 0.7, and 33% of the press votes multiplied with 0.3).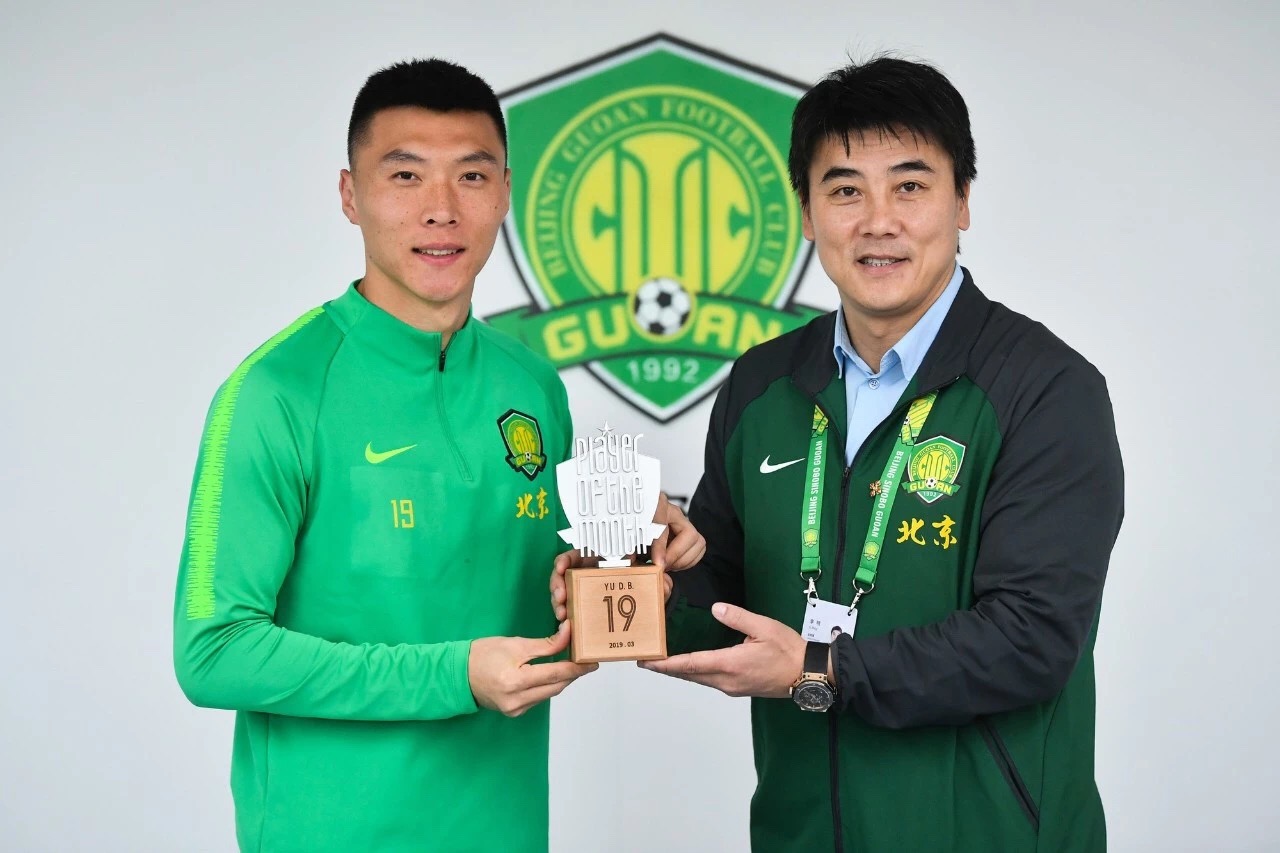 (Our General Manager Li Ming presented the award to Yu Dabao.)
'I would like to thank the fans for their support all this time, this award is a motivation for me, and I hope to contribute more to the team in the future,' said Yu Dabao while receiving the award trophy. 'I will continue to work harder and hopefully to win this again.'
Yu Dabao capped in all 5 games during March. Not only did he impress with his performance on the defensive line but he was also given an opportunity to return to the offense and score the winning goal in the game against Beijing Renhe. Because of his consistency as both defender and attacker, the fans nicknamed him the 'Swingman'.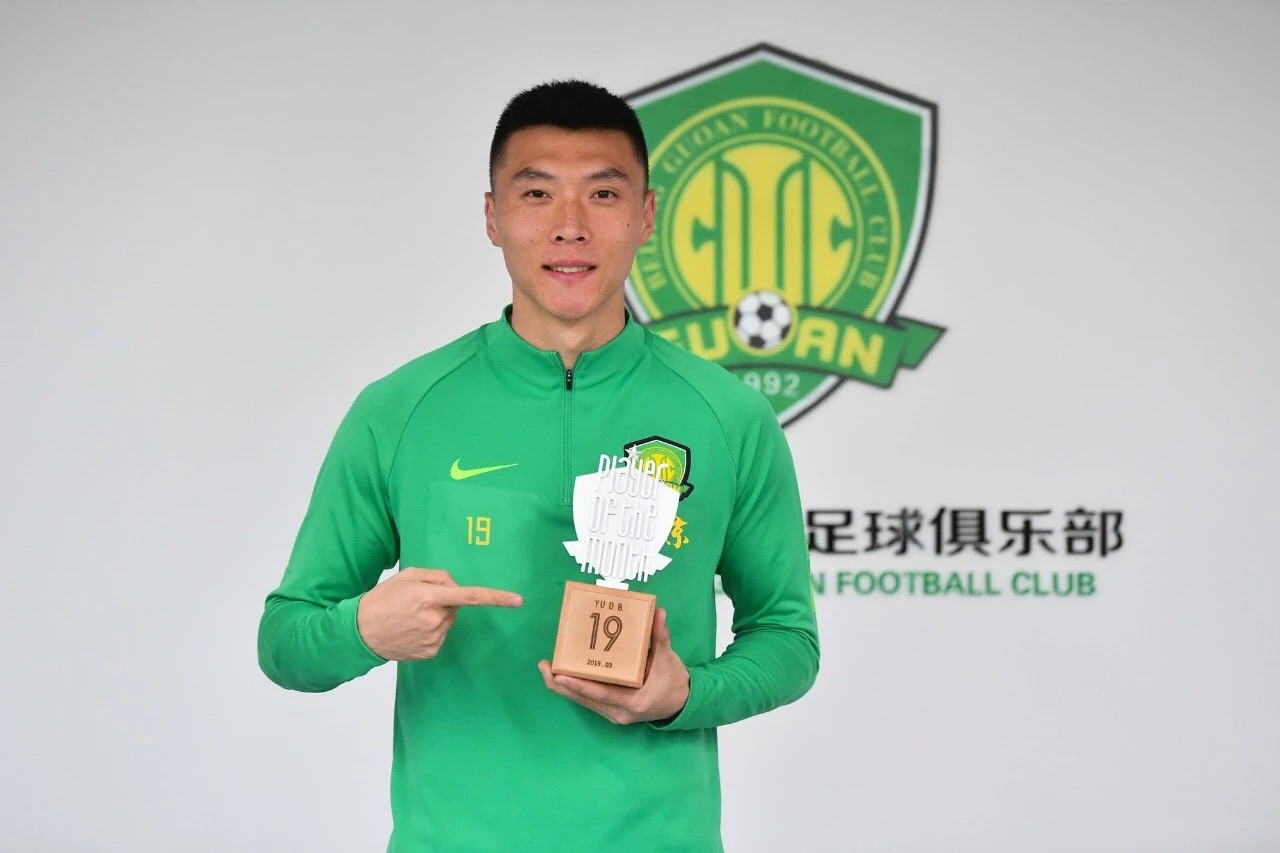 Talking about his own performance in March, Yu Dabao believed that playing as forward was a special occasion since it was not acknowledged by the head coach in advance. Yu was also content with his performance in the new position: Centre back. 'I played more as a defender since the beginning of this season, and that game as a striker was a special case. I am not sure if I would still have a chance to do so because even I myself is satisfied with my performance as defender.'
Beijing Sinobo Guoan were able to keep a clean sheet in March, and Yu played a key role in the team's defense; nevertheless, our captain still gave high regards to the collective effort. 'It was because we performed well as a team so we could achieve a 5-consecitive-win record and only one goal conceded so far. We should continue to carry on our good performance.'
As the captain, Yu Dabao not only helped the team in matches but was also a role model for others off the pitch. After the game against Henan Jianye yesterday, Yu approached the away stand and saluted the away fans. 'In the first few away games, the fans from Chongqing and Wuhan showed their hospitality to us, and we should also show our respect,' said Yu. 'The Thai fans of Buriram also applauded our fans after the ACL game away. We should respect every opponent and every spectator.'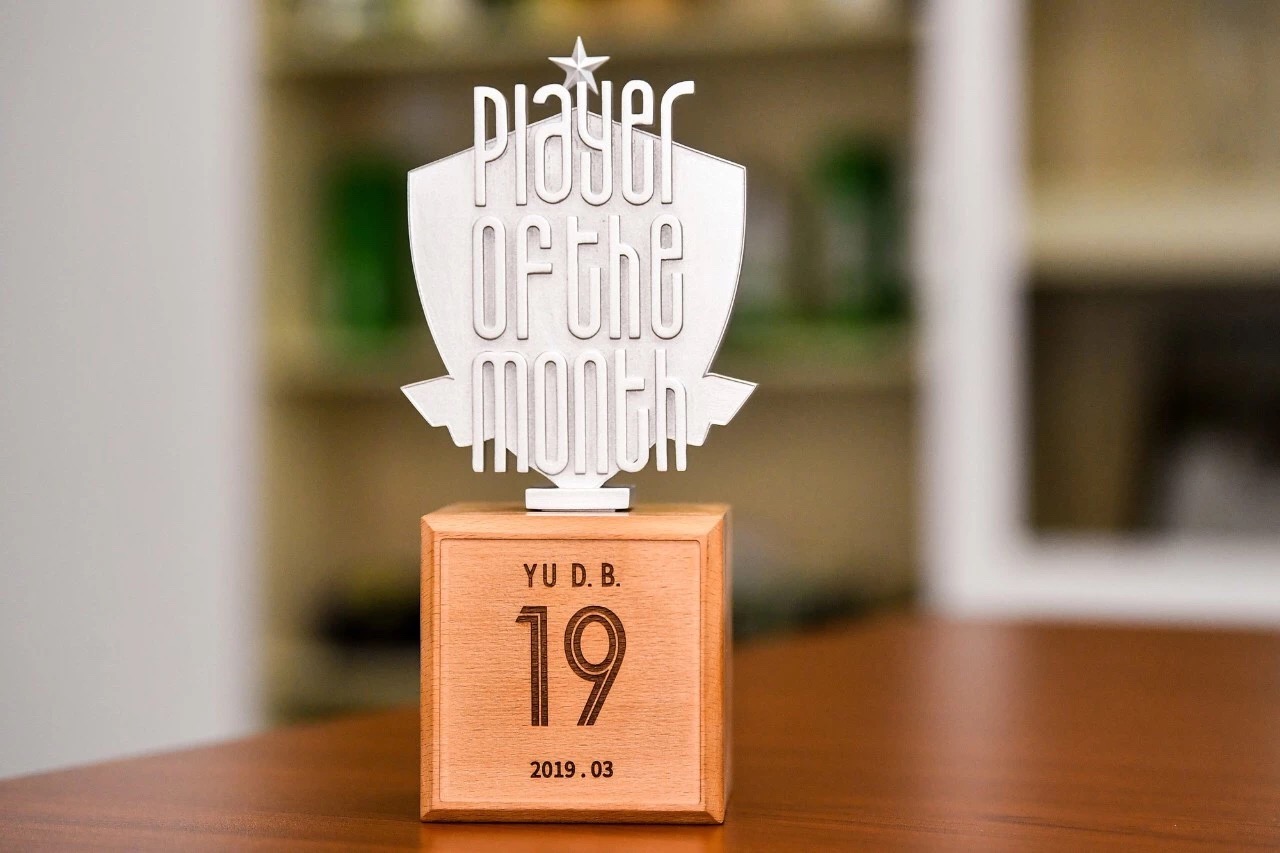 Beijing Sinobo Guoan have won 5 games consecutively and are leading the CSL table; however, Yu claimed that the team must keep their composure. 'The league has just begun, and we had a good start, but there are more games to come. We need to calm down and keep a good mentality to play every opponent. When we encounter difficulties we need patience and teamwork to win.'
Fan Vote Results
1. Yu Dabao 3,137 votes,
2. Jonathan Viera 2,858 votes,
3. Zhang Yuning 1,540 votes.